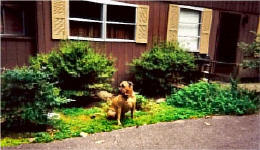 Silverbell Chalets
Gatlinberg, Tennessee
1-423-436-6462
They have two condominiums and a cabin available in a nice neighborhood right up in the mountains. We asked to rent the cabin which was absolutely wonderful! It has two large bedrooms, two bathrooms, kitchen with all of the amenities (pots, pans, soap, etc), washer/dryer, living room with a fireplace, deck, and a closed in hot tub area. We were very conveniently located - less than 5 minutes away from the main shopping and tourist areas. We hope to come back and visit again soon! (Maybe next time we'll see some black bears!)
On the Road
Bunkin' Down
Bullmastiff Friendly Getaways
On the Road Again With Man's Best Friend - United States...- Softcover
by
Dawn and Robert Hapgood
A detailed guide to over 18,000 locations that accept pets across the United States. This will help you plan your next Bullem vacation or find a safe haven from a natural disaster!

On the Road Again With Man's Best Friend: An Insider's Guide to the B&B's, Inns, and Hotels Throughout the U.S.
by
Dawn and Robert Hapgood
A detailed guide to over 20,000 locations that accept pets across the United States. This will help you plan your next Bullem vacation!
Take Your Pet Along : 1001 Places to Stay With Your Pet... - Softcover
by
Heather Maclean Waters
A must have guide for Bullmastiffs living in areas prone to evacuations due to natural disasters. This handy book fits perfectly in your glove compartment to give you a quick reference to a hotel/motel that will allow Bullmastiffs.
Traveling With Your Pet 2000 : The AAA Pet... - Softcover
by
Cynthia Psarakis
Reviewers state the 1999 edition was an excellent guide for travelers with large dogs. They anticipate the same rating for the 2000 release. Important information for finding emergency vet clinics, traveling tips, lodging fees, and more!