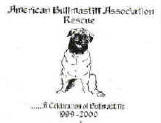 A Celebration of Bullmastiffs Calendar
2001 & 2002

All of the proceeds from this two year black and white calendar go directly to benefit the American Bullmastiff Association, Inc Rescue Service. Each month features a different dog. Some of them are rescue dogs that the ABA has placed.

Help Support ABA Rescue and order your copy today!! The calendar costs $23.00 including postage, any additional calendars ordered at the same time cost $20.00. Cheques made payable to the American Bullmastiff Association and sent to:

Virginia Rowland
P.O. Box 300
Templeton, MA 01468

The calendar sales are our only major fund raiser for our rescue program and necessary to help us raise money to cover the veterinary care lots of our

Bullmastiffs

need. Thank You for your support!
For the Home
For the Office

ABA Millennium Mousepad
$10.00 (includes shipping/handling)
This awesome mousepad is 7 1/2 x 8" with a Hard Lexon Surface. The dogs pictured are all Rescue Dogs who made it successfully thru the ABA Rescue Program. Thanks to the volunteers who opened their homes, fostered and cared for them until the right homes were found, these dogs are living happily in safe, comfortable family situations. Order one now - you won't find another Bullmastiff Mousepad like this one!
Bullmastiff Christmas Cards & Envelopes
You won't find these Christmas Cards anywhere else! Each Christmas Card & Envelope Set features the Bullmastiff in various Christmas scenes including - Winter Wonderland, Bullmastiff Angels, and more! Made of High Grade Card Stock, each Christmas Card has a custom image imprinted on the front of the card with a Christmas Wish written inside.


Click here to view what Christmas Designs are available. When checking out, please be sure to indicate which Christmas theme you are ordering in the "Image Name Selected from the Image Library" comments section of the last checkout page.

Included in each order are: 10 Greeting Cards and Envelopes.
Please click here to send us your Image Name Selected from the Image Library via email so that we may package your order immediately.